Grove Backpack
(different VAT may be applied depending on your country)
Discover electronics
Invent new games and original prototypes
Fast and easy to connect with no soldering
Ideal kit for beginners
Documentation and examples in French and English
Gamebuino not included
Included
1 Grove adapter for Gamebuino

Designed to perfectly fit at the back of your Gamebuino, it can connect up to 16 modules. See below for detailed specifications.
Specifications of the Grove Backpack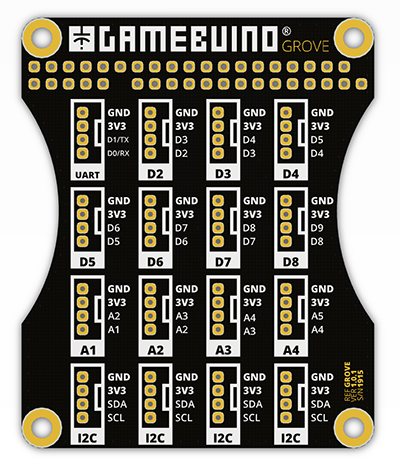 Connectors
1 UART
7 Digital input/output PWM (D2 to D8)
4 Analog inputs (A1 to A4)
4 I2C Connectors
Compatible with Arduino (C/C++) and Python
We chose easy to use modules that don't require external libraries to be operated (except the infrared modules). This way it's super quick and easy to use them with Arduino (C/C++) or Python with no extra setup !
Examples provided
You'll get code examples to see how to use the modules. Copy & paste at will for your own applications!
Beware of the 3.3 volts !
The Gamebuino runs at 3.3 volts, do not connect 5 volts external power. If you add your own modules, double check that they are 3.3 volts ready.
Gamebuino META & Modules not included
If you don't have one yet, check the links below ;)