Grove Starter Kit
Discover electronics
Invent new games and original prototypes
Fast and easy to connect with no soldering
Ideal kit for beginners
Documentation and examples in French and English
Gamebuino not included

List of included modules below
Tracked shipping worlwide

Card - Paypal - Wire transfer

Made In France
What can I do with the Grove modules for Gamebuino?
You can imagine many fun applications that will simplify your life with your Gamebuino and the Grove modules. Here are a few examples of what you could do to learn electronics and programming.
Add a joystick
    Control your console with an external joystick, potentiometer or tactile button


Battle Royale Pong
    Connect 4 potentiometers to fight your friends on your Gamebuino





Multiplayer games
    With a cable



    Or wireless over infrared communication





Fridge monitor
    Get an alarm when you let the door open (by measuring the light) or when the temperature is out of range




Door alarm
    Detect when the door is open and unlock with a secret code... which you can do on your fridge door as well;)





Clap TV remote
    Just clap your hands to turn the TV on and off






...and whatever you can invent!
What Grove modules are included in the kit ?
1 Grove Joystick

This joystick is similar to what you can find on a PlayStation controller. Moving it in X and Y directions output two independant analog signals, like would two 10KR potentiometers do.

Allows you to control the game with more accuracy than the Gamebuino's directional pad.

1 Grove Potentiometer

This module sends out an analog signal that is proportional to the rotation of the knob. It can rotate 300°.

Ideal to play Pong, or to fine tune sound effects.

1 Grove tactile button

This sensor knows when you touch it, even through thin materials like paper. It senses a digital signal like would do a regular button, thanks to the built-in TTP223-B. We like the little LED that shows you when a touch is detected.

Allows you to hide inconspicuous buttons under thin material or to wrap it to make waterproof products.

1 Grove Infrared Emitted

The LED of this module sends infrared signals centered around 940 nm. The range can reach several meters if you aim directly at the receiver.

Tip: look at the infrared emitter through your phone camera to see the invisible infrared light. It also works with your TV remote!

1 Grove Infrared Receiver

This sensor receives infrared signals modulated at 38 kHz to limit the influence of ambient light. It's the standard frequency used by TV remotes. The integrated TSOP282 outputs a clean digital signal after filtering the incoming signal.

1 Grove relay

A relay is a switch that you can control with your Gamebuino to turn on and off external devices like a light bulb or coffee machine. Be very careful when working with the main power, don't hesitate to contact a professional.

250 V 10 A Maximum

1 Grove Loudness sensor

Reads the ambient noise level and output it as a positive analog signal. This module is made of a microphone and a LM2904 amplifier along with two stages of filtering. We like the potentiometer that controls the output gain, to adjust the noise sensitivity.

Detect hand clapping or door knocking or make an original sound controlled game.

1 Grove temperature sensor

The measure of ambient temperature is made by the thermistor NCP18WF104F03RC. The voltage divider outputs an analog signal.

From - 40 °C to 125 °C, accuracy 1.5 °C

You can do a weather station, monitor your fridge or know when it's time to open the windows.

1 Grove light sensor v1.2

Measures the ambient light and outputs it as an analog signal. It's based on a high sensitivity and reliability phototriode.

Allows you to know if it's time to turn the light on or if you left the fridge open.

1 Grove adapter for Gamebuino

Designed to perfectly fit at the back of your Gamebuino, it can connect up to 16 modules. See below for detailed specifications.

9 Grove cables

Connect your modules to your Gamebuino Grove adapter, or daisy chain several Gamebuino together.

Length 200 mm
Specifications of the Grove Starter Kit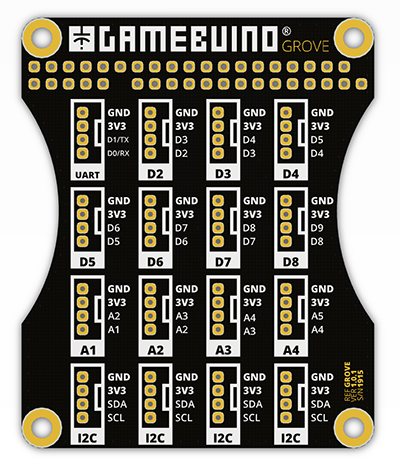 Connectors
1 UART
7 Digital input/output PWM (D2 to D8)
4 Analog inputs (A1 to A4)
4 I2C Connectors
Compatible with Arduino (C/C++) and Python
We chose easy to use modules that don't require external libraries to be operated (except the infrared modules). This way it's super quick and easy to use them with Arduino (C/C++) or Python with no extra setup !
Examples provided
You'll get code examples to see how to use the modules. Copy & paste at will for your own applications!
Beware of the 3.3 volts !
The Gamebuino runs at 3.3 volts, do not connect 5 volts external power. If you add your own modules, double check that they are 3.3 volts ready.
Gamebuino META not included
If you don't have one yet, check the links below ;)